Isle de Ometepe is a place you won't want to miss in Nicaragua. This islands consists of two volcanos and is located in lake Nicaragua. It's no longer a secret to most backpackers, but it still very quiet and authentic. We were surprised by how little other backpackers we saw and loved seeing local life in the little towns that are scattered on the island. The volcanos and the lake make for beautiful views all around the island. Let me tell you about my favorite things in Ometepe!
Explore Ometepe on a Motorcycle/Scooter
There are buses, but very few. So the best way to see the island is to get yourself a pair of wheels. This can be a scooter, motorcycle or bicycle. We went for the scooter as we have no experience with motorcycles, but from what I heard that is not a problem in Ometepe. They'll let you practice riding the motorcycle on a field and after a couple of minutes you are good to go. Make sure you ask about the roads before driving off, because not all are easy to ride. I managed to return the scooter in one piece, but there are definitely some treacherous roads.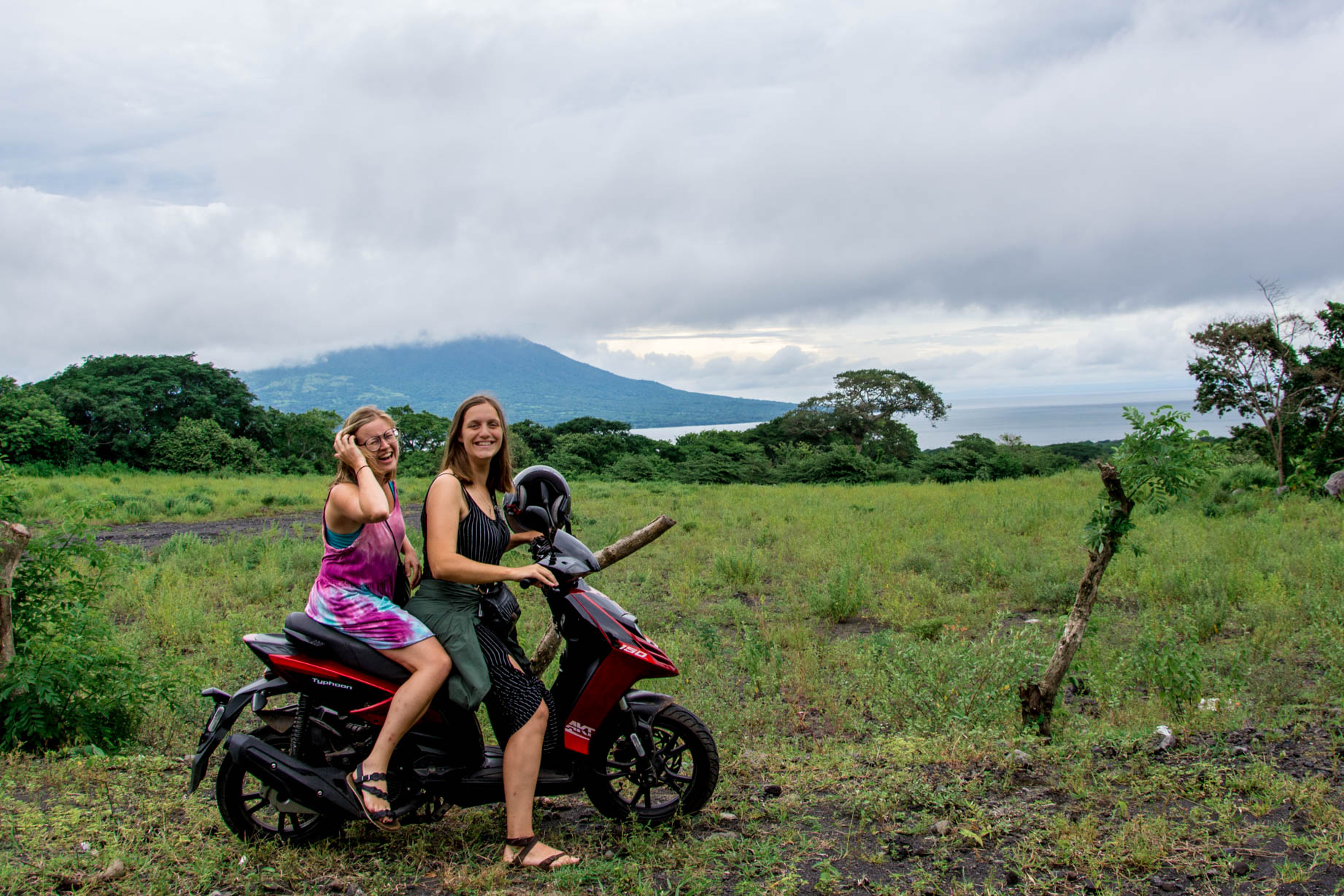 Hike to the San Ramon waterfall
San Ramon waterfall can be found on the south side of the island. The entire trip should take you about 3 hours. You could ride a scooter to the entrance and hike the entire trail or you can go horse riding and just walk the last part. The waterfall is about 10 meters high and very impressive, especially in the rainy season. Warning: Other travelers did tell us they got robbed at the waterfall. Make sure you do not take anything of value with you to the waterfall. 
Go horse riding with Hari's horses
The best guy on the island for your ride. I went on ride with them, because of the good recommendations and the well taken care of horses. I enjoyed a beach ride and a swim with the horses, but they offer many different rides. They can also take you to the Petroglyphs or the waterfall.
Hike one of the volcanos
Volcano Conception is the most popular hike on the island, but it's an extremely tough hike. The entire thing takes 8-10 hours and that was just a little too much for me. It's extremely steep and going down is even more difficult then going up. Most of the time it's quite cloudy so you don't get much of a view. So it's for those who really love a physical challenge. My friend did actually do the hike and although reaching the top was very rewarding, her legs were sore for the next couple of days. She also said it was the toughest hike she'd ever done.
Swim in the Ojo de Agua
After hiking one of the volcanos you'll want to relax for a bit. Luckily the island also has a natural spring pool with crystal clear water supplied from a river coming from the Maderas Volcano. You can swim, or sit down in one of the chairs and enjoy a cold beer. There's a swing you can use to jump into the pool and even a slackfline. I would say the perfect place to relax for a couple of hours, before doing some more exploring. Entree is $5 and opening hours are from 8 am to 5 pm. 
Kayak down the Rio Istian
This river is located between the two volcanos. The swampy area can be explored by kayak. It's a popular activity on the island and you can choose to take a tour or rent a kayak yourself. On your trip you'll see lots of bird and with a trained eye also turtles and caimans.
See the sunset at Punta Jesus Maria
When you're driving over here for the sunset, don't miss the little dirt road that leads to this beautiful spot. There is a sign, but it's not very prominent. (We missed it twice) Get there early so you can enjoy a swim an a drink on the beach. There are some bars down there with beers for $1, so don't worry about bringing anything. The beach isn't particularly beautiful, but when the sun sets it becomes magical.
How to get to Ometepe from the mainland
Getting to Ometepe isn't all that difficult. Make your way over to Rivas and from there you take the bus to San Jorge. Buses from Rivas to San Jorge leave every 30 min. On Sundays you'll have to take a taxi as there will be no buses, but even a taxi should only cost you a few dollars. From San Jorge you can take the ferry to 'Isla de Ometepe'. There are two ferry stops on the island: Moyalgalpa and San Jose. Most ferries go to Moyalgalpa, so if San Jorge is closer to your hotel make sure to plan for the 9:30 ferry.
Warning: Somewhere along the way (Especially in Rivas) taxi drivers will try to convince you to take their taxi and that there are no more buses for the day. They are lying! We did decide to take a taxi from San Jorge to Granada on the way back, because the buses were really full and we were prepared to pay for some comfort. We payed $9 dollars per person for that ride.