Cape Town, aka the Mother City is my all time favorite city! The Ocean, the mountains, the chilled vibe. It really has got it all. I've been there 3 times now and I'll keep coming back for more. I could go on forever about all the things you can do in Cape Town, but for now I'll share the things you absolutely can't miss!
Table mountain National Park
Okay, I now this one is kind of obvious, but I can't leave it off the list. If you're in Cape Town you've got to visit Table Mountain. The best way to do it would be to hike up and take the cable cart down. The hike isn't easy though (At least not for me). Going up should take you 3 to 4 hours. If you don't have a lot of time you can take the cable cart up as well.  Fun fact: If it's your birthday you can take the cable cart up for free.
Hike up Lions head
I love Lions Head even more than I love Table Mountain and not just because it is an easier hike. In my opinion it gives you the best view of the city and Camps bay! Loads of people have figured that out though and it gets busy during sunset time. I haven't tried it during the sunrise, but that might be the better option if you want a bit of peace and quiet.
Free walking tour
There are several walking tours that leave from Green market square. The guides hold up green umbrella's so you will have no problem finding them. There is a historic tour, a district 6 tour and a tour of Bo Kaap. All of them are worth doing, but its advised to start with the historic tour. After you've completed the tour you decide how much you want to pay. All the tours I've done with them have been amazing and the guides were super funny.
Cape of good hope
The perfect place to visit on a day trip away from the city. The most southwestern cape point in Africa is pretty easy to get to. It's about a 1,5 hour drive from Cape Town. There's a lot of companies offering a Cape Peninsula tour, but it's so much more fun to rent a car and drive yourself. Take the drive down Chapman's peak for stunning scenery! There are a lot of cool places to stop along the way.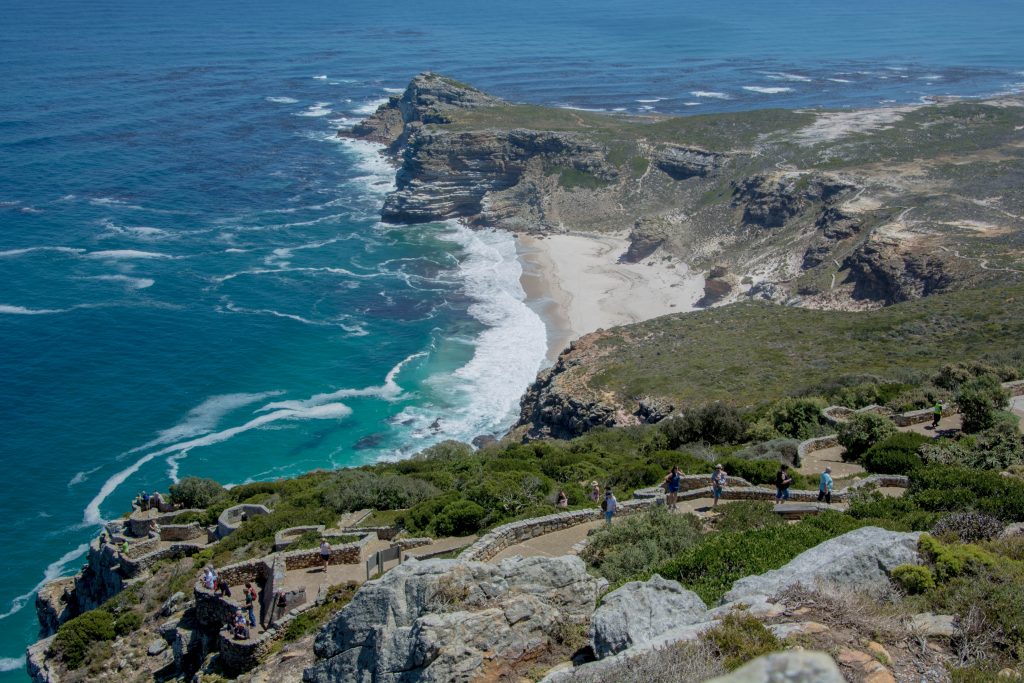 See the penguins at Boulders Beach
If you're driving to Cape of Good Hope, don't forget to stop at Boulders Beach. These cute little penguins will steal your heart. There is a boardwalk you can enter for free, but I highly recommend paying a little fee to go onto the beach. You can waddle around with the penguins! The water's enchanting color will make you want to jump in, but like everywhere in Cape Town it's freezing cold.

Jonkers Hoek Nature Reserve
I didn't have enough time to go here on this trip, but this is a tip I got from a local. You can find Matthew, who gave me this tip on Instagram.  According to him this is a great place for a scenic view of majestic mountains and waterfalls. There is a 5km hike for people like me and a 17km hike for the really fit people. Driving here would be the best option, because the hike starts 3 km from the entrance point.

Snorkeling with seals
This was actually something that had been on my list for forever. I booked it 4 years ago, but it was canceled due to the weather. I finally got the chance to swim with them this time. When you see the seals sitting on the rocks you can't imagine how elegant and quick they are in the water. Leaving a trail of bubbles they'll swim up to you and quickly turn away again. I was in awe of these big eyed creatures. The best place to see the seals is in Hout Bay.
Wine tasting in Groot Constantia
There are tons of great wine estates in the area, but Groot Constantia is a very famous one. I't incredibly beautiful and the wines are amazing! You can get there by taking the hop on hop off bus from Cape Town. It will be hard to leave without buying at least one bottle of wine. Not very convenient if you still have to travel a long way. Stellenbosch and Franschhoek are great areas to do wine tasting if you're looking for other estates.
Kirstenbosch Botanical Garden
This is the most stunning botanical garden I've seen and it's situated beneath the iconic Table mountain. Perfect to spend a lazy day basking in the sun and having a little picnic. During the summer months they also organize concerts in the gardens. I haven't been to one, but from what I've heard it's an awesome outing!
V&A waterfront
Victoria and Albert Waterfront is the harbor of Cape Town and part of the historical centre. There's a Ferris wheel, a view of table mountain and lots an lots of great restaurants. Especially if you like seafood this is the place to be. I splurge on Sushi every time I visit.
Surfing in Muizenberg
This is the perfect place to go if you're a beginning surfer. There are quite a lot of people coming to Cape Town just for the surfing, but waves can be high in some places. Muizenberg is a great place to learn and grab a drink once you're done catching waves.

The list of things to do in Cape Town is endless, but this should get you started. Let me know what you think everyone must do in Cape Town. If you think I've missed something, comment below!