Are you visiting Nicaragua? Then you are probably debating wether you should splurge on a visit to the Corn Islands. It is a costly endeavor, but many describe it as true paradise and the beaches unmatched by any other beach in Nicaragua. Me and my friend discussed this destination extensively before making the decision to finally buy the flight tickets. In this post I will cover everything you need to know before visiting the Corn islands! Like us, you will probably come to the conclusion that this slice of paradise may just be worth the expensive ticket.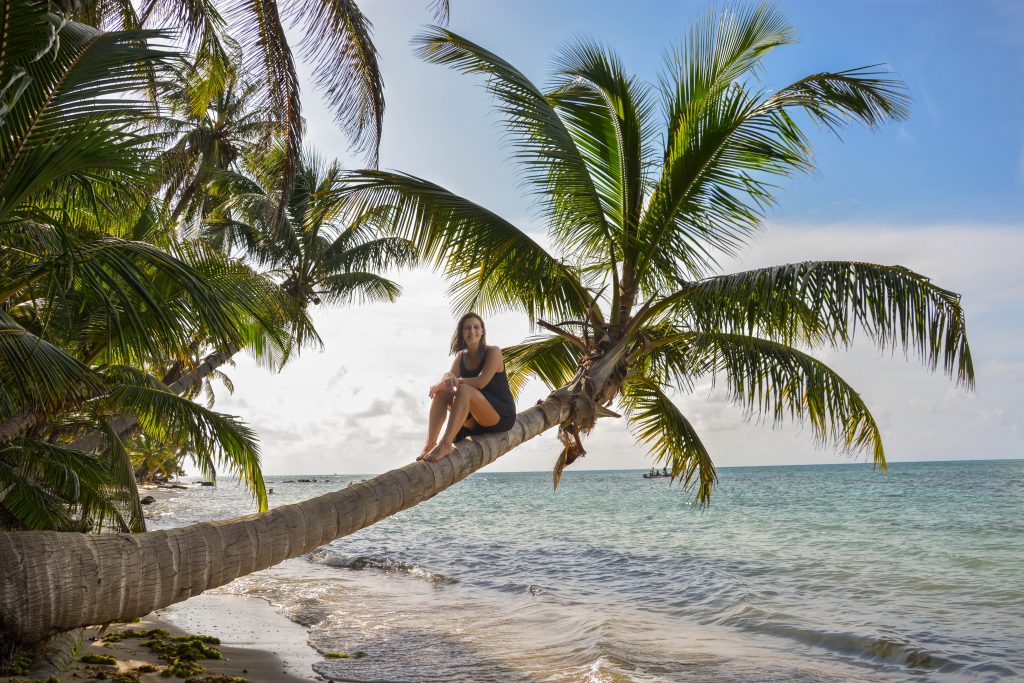 What are the corn Islands?
The corn islands are two islands of the Caribbean coast of Nicaragua. There is big corn and the more popular island to visit is little corn aka. Isla Pequeña del Maíz. There are no cars, but there is really no need for cars on an island you can hike around in about 4 hours. The vibe is extremely relaxed and you can feel life slow down while you are there. What makes this place extra special is that it isn't overrun by tourists yet. It's a popular destination, but we often shared the beach with just few other people. This may however change in the future.
How to get to the Corn islands
There are two ways to get there, the easy way and the hard way. The easy way is getting a flight from Managua to Big Corn and from big corn you take a little boat to Little Corn. This will set you back about €160 for a return flight. You can leave the return date open ended if you like. If you have the time I'd recommend this so you can enjoy paradise for as long as you want.  The airline is called La Costeña and you can book your tickets here. Once you arrive at Big Corn airport you can collect your luggage and get a cab (should cost $1 p.p) to Brigg Bay to catch the Panga to Little Corn Island. The Panga costs 180 Cordobas/ $6 USD one way. Tickets are "first come, first served" so to be sure you're in time for your flight back. You want to purchase your ticket as early as you can.
Panga from Big Corn to Little Corn: 10am and 4.30pm
Panga from Little Corn to Big Corn: 6.30am and 1.30pm You should be able to make the morning flight if you take the first boat, but if it's extremely busy or there are strong winds the panga may have to take more than one trip. We took the chance and made our 8:00 flight, but it is considered smart to stay at Big Corn the night before your flight.
If you're in an adventurous mood you can also take the bus, ferry, boat etc. to get to the islands. You'll probably be traveling for a few days. I haven't done this, but luckily other people have. For an extensive guide on how to get to the Corn Islands without flying you can read this guide. If you make it to the islands this way you get bragging rights for life;)

What to do on the Corn islands
Relax! Embrace the slow pace of life and get yourself a cocktail, a book and a hammock. Besides that?
Snorkling/diving: Sharks, rays, turtles, barracuda are just a few of many creatures you can find here. Safe to say the Corn Islands are great for snorkeling and diving! I've also heard the night dive is pretty special. If you want to get your PADI, Little corn is actually a really affordable spot to learn.
Island trip: This trip is organized by the lighthouse hostel and I can't recommend it enough. It starts the day off with some traditional fishing, which is followed by a bbq on the beach. The guides will cook the fish that was caught (honestly I didn't catch anything, they did most all of the work). This may have been the best lunch I've had in my entire life. The entire group could not stop eating, because it was just so good. Make sure to order enough beer/drinks to bring to the beach so you can have your own little beach party. We had some coco loco's, played some beach volleyball, chilled. Late afternoon you hop back on the boat to go for some snorkeling and you can enjoy another coco loco while watching the sunset.
Yemaya Beach: This 5 star resort has a prime beach spot. Best of all, it is free to enter for everyone! So if you read my blog often you know food is important to me. If you are chilling at this beach you may as well make use of the beach bar and get yourself a drink and some Toña battered lobster. Highly recommended!
The island is super tiny, so there is basically one Main Street with some restaurants. The most popular and I think best places to eat are Desideri and Tranquilo. We stayed at the lighthouse during our time on little corn and I must say their food was good too!
Where to stay
Without doubt, the best (budget) place to stay is the lighthouse. It walking distance from the Main Street with all the restaurants and places to go out. It's slightly more expensive than other hostels, but I visited a few of them and I think it was worth the extra cost. The location is beautiful and they serve great food!
If you're looking something more luxurious and private and you'd like your own bungalow on the beach then consider little corn beach and bungalow

More tips
Bring enough cash, because there are no ATM's
Yemaya (5 star resort) has the best beach and it is free to enter!
You may want to bring a supply of Flor de Cana as food and drinks are more expensive here
Wifi is limited, so buy a SIM card or embrace it and just use the wifi in Restaurants.
Waterproof your stuff for the boat trip to little corn
In Conclusion: Is it worth the money?
Yes, yes, yes! Just book your ticket already:) 
This post may contain affiliate links, which means I earn a commission (at no extra cost to you) if you purchase from them.