Nicaragua a.k.a backpackers paradise. It's safe, easy to get around, distances are short and most importantly it is beautiful! You could spend months enjoying this country, but this is a great route if you have 3 weeks;) I will guarantee you'll want to stay longer! So are you planning a trip to Nicaragua? Read this to help you plan your Nicaragua travel route. It will take you to all the best places in Nicaragua. We entered Nicaragua through Costa Rica, so our trip started in San Juan del Sur. If you fly into Managua, you may want to do things in a different order.
If you want to know what kind of budget you will need you read my budget guide.
San Juan del Sur
San Juan is one of the most popular party destinations in Central America. Even though people from everywhere gather here for the infamous Sunday Funday party, it has got a super chill vibe. I'd recommend spending a few days here to enjoy the nearby surfing beaches and the amazing food. We had some of our best meals in San Juan! Haha we basically spent a week eating, surfing and partying.
How do you get to San Juan Del Sur?
We took the bus all the way from San Jose, Costa Rica. There is no direct bus, so you'll have to take the bus to Rivas. There are several bus companies that make the trip like: Tica Bus, Nica Bus en Central Line. We booked the rica bus. The bus will drop you off in Rivas where you can take another bus to San Juan del Sur. Make sure you plan this well, because you don't want to arrive in the dark. This means taking either the first or last bus of the day so you arrive in the daylight.
For more tips on San Juan del Sur have a look at my guide to San Juan Del Sur
Popoyo
Learn how to surf in this surfer town or join the pro's if you're already a more experienced surfer. I'm a total beginner, but there are surf spots for every level. I stayed at Magnific Rock when I was there. It's location and view make it a special spot. They do offer dorms to cater for backpackers as well. It's still a little on the pricy side, but sometimes you've got to treat yourself, right? They offer Yoga classes in the morning and have a great restaurant. If you decide you want a cheaper dorm room, you could always just head over there for dinner.
Granada
Granada is an interesting colonial town, with colorful streets and lots of cathedrals. I would recommend spending just a day in Granada to see all the sights. Although it is stunning it wasn't my favorite spot in Nicaragua. I would say that I prefer Leon to Granada because it has a friendlier vibe. I would still recommend to stay longer for a visit to the Masaya volcano and Laguna de Apoyo.
Go here if you want to know exactly What to do in Granada, Nicaragua
Ometepe
Despite this being a very popular destination in Nicaragua, this small island didn't feel too touristy or overcrowded at all. The villages felt really authentic and I loved cruising around this island on a scooter. There is enough to do here for about 3 days, depending on if you want to climb one of the volcanos. It's a though hike and you'll need a full day for it.
To find out more about my favorite activities have a look here: things to do in Ometepe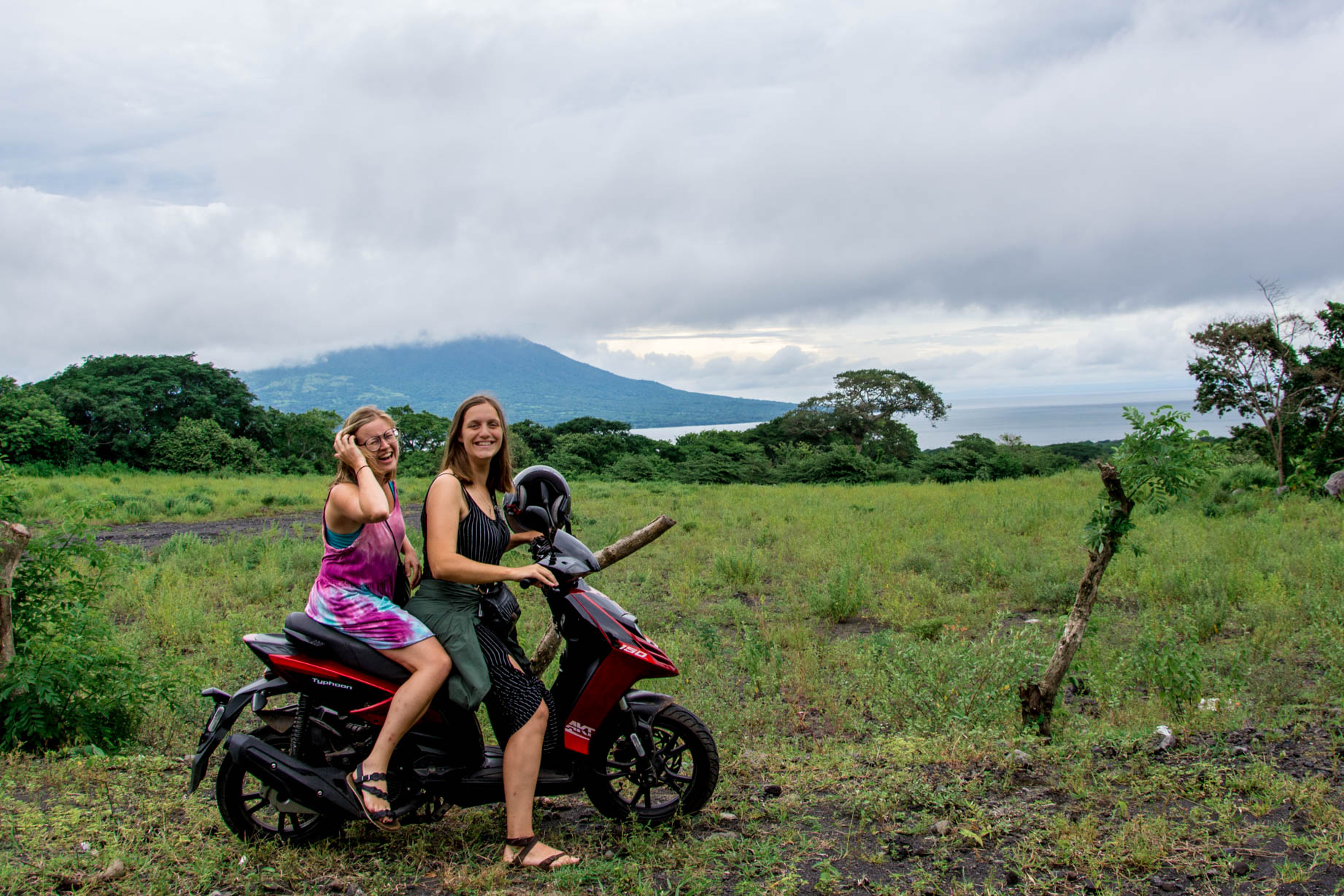 Leon
I'm still completely in love with Leon. The obvious must see is the cathedral, although it's not the sights, but the people and the relaxed vibe that will make you love Leon. If you want to get out of the city there is the possibility to go volcano boarding. If you're feeling a little lazy you can take the bus to a nearby beach!
For a more details on my favorite city in Nicaragua read this Guide to Leon in Nicaragua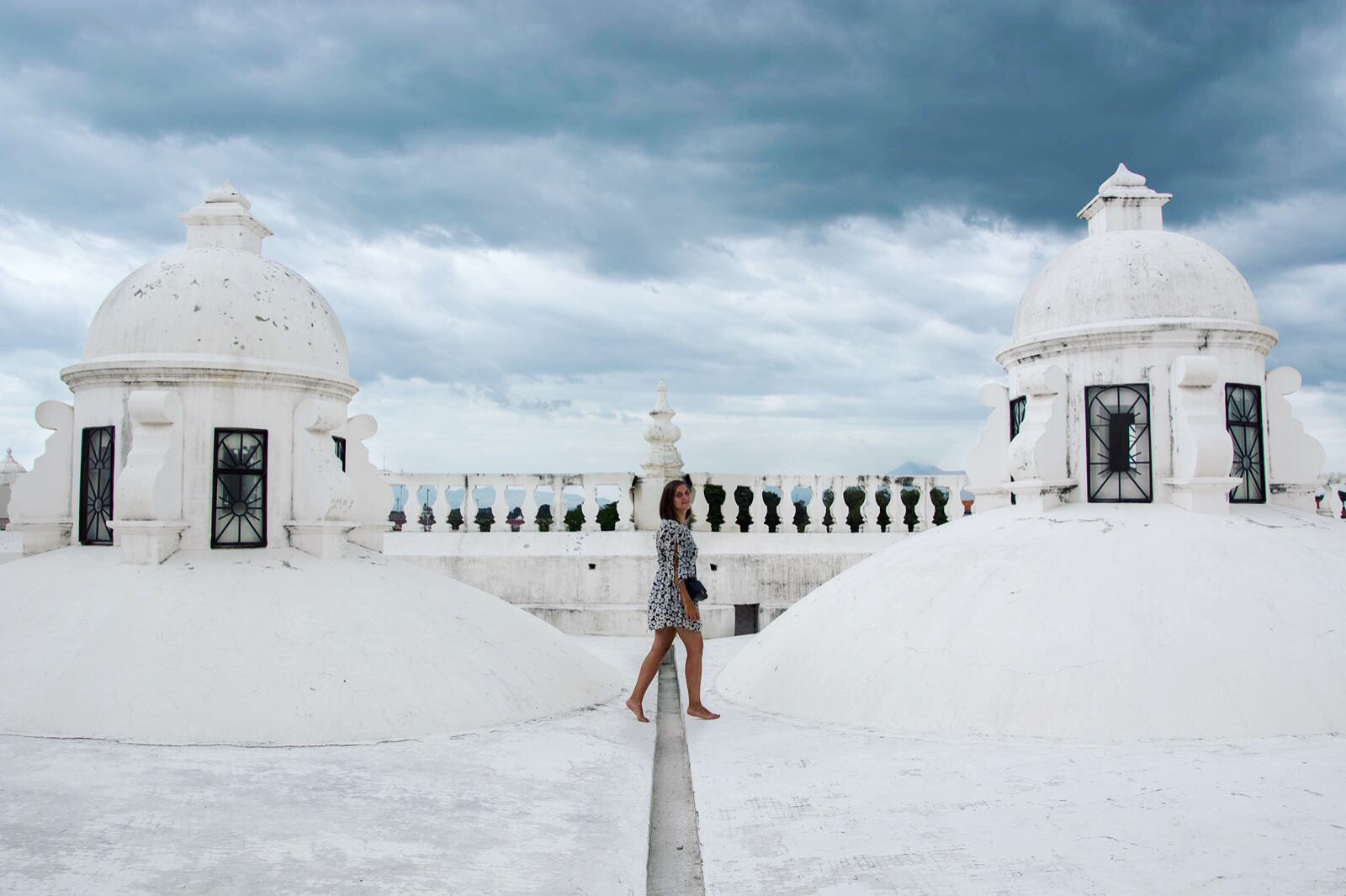 Corn Islands
Usually I can't sit still to save my life, but after month's of backpacking even I can appreciate a few days on a tropical beach. The Corn islands are the perfect ending to a backpacking trip. To be fair, the flight to get to the island is a little expensive. A lot of people skip it for that reason. We wanted to see for ourselves if this place was a real life paradise. So we splurged on tickets and were luckily not disappointed. In my opinion the best beaches in Nicaragua can be found here! Read more about my thoughts on the island in this article: Are the corn islands worth the money?